Custom Creations- Tag Pendants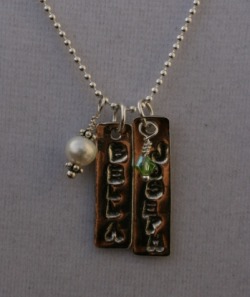 Your first born. Your wedding date. Your spouse. Your dog. Your cat. Your second born. Your favorite phrase or mantra. Your third born. Whomever or whatever you want to wear close to your heart. Your provide the text, and we create the perfect pendant --custom for you! We'll add a couple baubles (aka dangles) in birthstone colors, or colors of your choice for the perfect personal creation
---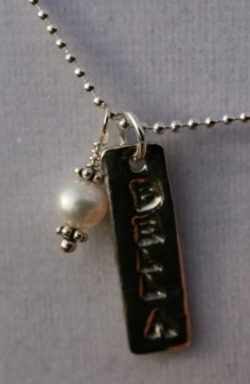 Custom Close to my Mini Heart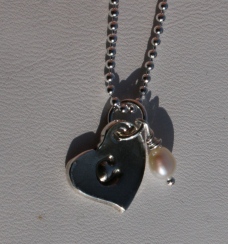 Hold the inital of a loved one close to your heart with this darling heart shaped pendant with a single initial and a freshwater pearl or swarovski crystal to match a birth month.
---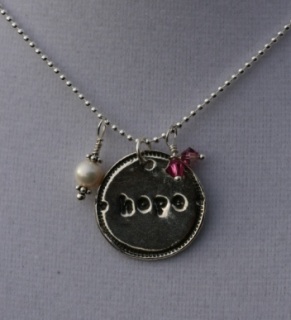 HOPE FLOATS- a Simply Stunning Best Seller!
A gentle reminder of the power of hope.....gorgeous handcrafted silver pendant adorned with a freshwater pearl and two shades of pink swarovski crystals-- all hanging from a 18" ball chain. $5 from every Hope Floats necklace sold will be donated to the American Cancer Society. Please specify color of swarovski crystals you would like at check out.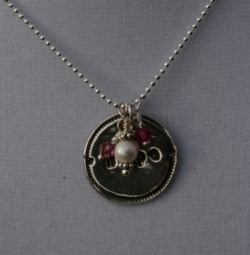 ---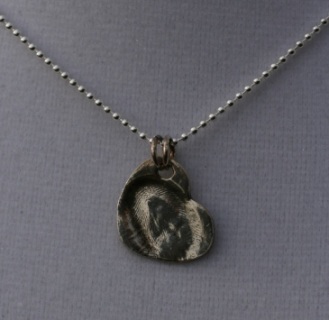 UNDER MY THUMB- custom fingerprint pendant
Preserve forever your child's (or any other loved ones!) fingerprint- and wear it close to your heart! This heart shaped pendant will be imprinted with your loved ones fingerprint. Local customers only--as I have to meet with your loved one to get their print!
Here's an example of a custom piece that I made for Fancy Melissa to celebrate her appointment to the Close to My Heart Advisory Board. I'd love to create custom piece for you--contact me at loretta@simplystunningsilver.com
---